Description
Fubon Yeast Cell Wall is a natural component derived from Saccharomyces cerevisiae. It's obtained by the autolysis of yeast cells. After yeast autolysis is completed, cell wall and yeast extracts are separated and spray dried. The main efficient ingredients are β-glucan and mannan, and can increase immunity, block pathogens and bind mycotoxins (especially Zearalenone)
Efficacy
Reduce mortality
Replace antibiotics
Bind mycotoxins
Improve animal performance
Mode of Action
A. Block and Excrete Pathogens
The mannan of yeast cell wall has similar structure with binding site of pathogens on the intestinal wall. Thus it can competitively bind the pathogens and interfere with the binding between pathogens and intestinal wall. Furthermore, as the mannan cannot be digested by pathogens and intestinal enzymes, the tightly bound pathogen-mannan complex can be discharged from the body.
B. Bind Mycotoxins
The special space structure of yeast cell wall provides lots of binding sites for different toxins. And the intermolecular forces like hydrogen bonds and Van der Waals forces cna help to reinforce the binding and form polysaccharides-toxin complex, which prevents the myoctoxin being absorbed.
C. Stimulate Immune System
β-glucan can bind to the surface receptor of immune cells, exciting the immune relate signal transmission channel, stimulate immune cells to release downstream signal molecule, and induce the specific and non-specific immune response.
Guaranteed Analysis
β-glucan ≥ 20%; Mannan ≥ 20%
Application Trails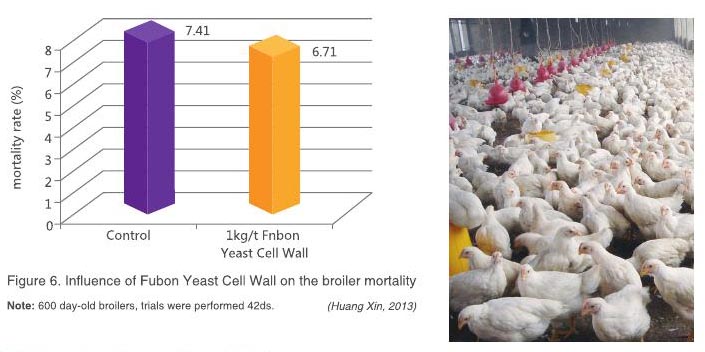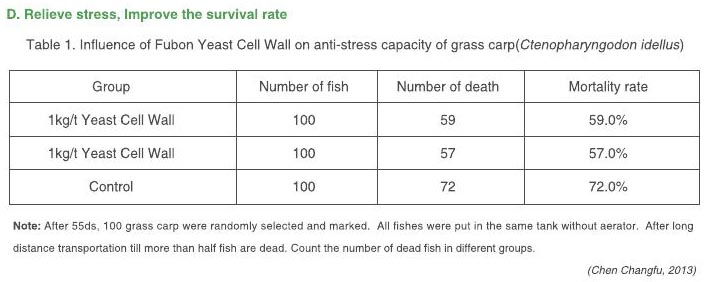 Dosage and Usage